The New Home Deep Clean: What to Clean When You Move
A new house or apartment presents so many possibilities. Bare walls, an uncluttered space, and a bare canvas upon which to make yourself a home. But before you get started on the fun parts of moving to a new place, you have to take care of the basics. Namely, the new home deep clean.
Whether you're renting or buying, move in cleaning (or pre-move in cleaning, if you've got some lee-way with your timing) is a big necessity. The person or people who lived there before you, no matter how well-intentioned, inevitably left behind some dirt, grime, and dust that you'll want to take care of before you really settle in. Unless you've just moved in to brand new construction, that blank slate isn't quite as blank as it looks.
Cleaning a house before you move in is the ideal way to go, since you won't have the added difficulty of needing to work around a bunch of furniture and boxes. But if you have to wait until after you move that's fine – just don't skip the clean entirely. The same goes for if a cleaning crew came through prior to you getting the keys. This is one corner you just don't want to cut.
Clean high before you clean low
Dust isn't relegated to floors and countertops. Ceiling fans, overhead lighting fixtures, shelving, and other features close to the ceiling are just as prone to getting grimy, but they (a) don't get cleaned as often, and (b) tend to sprinkle dirt and dust onto the space below them when they finally do get a scrub down. Since cleaning these high up features will inevitably lead to the area below them getting a little bit filthy too, start at the top in each room and then work your way down.
If you're cleaning post-move, do the fridge first
There are some things you can put off while you get everything cleaned, but storing your perishable food isn't one of them. Before you get to everything else, start by sanitizing your new fridge. Because it's clear of any food, it shouldn't take more than 20 minutes. Remove the shelves and drawers if you can and clean those individually with soap and warm water. For the inside of the fridge, make a solution of equal parts water and white vinegar, and use a clean rag to scrub down all the surfaces. If there's any stuck-on gunk to remove, let the water/vinegar solution sit and soak in for a bit. Make sure shelves are completely dry, and then return them to the fridge. Repeat these steps with the freezer.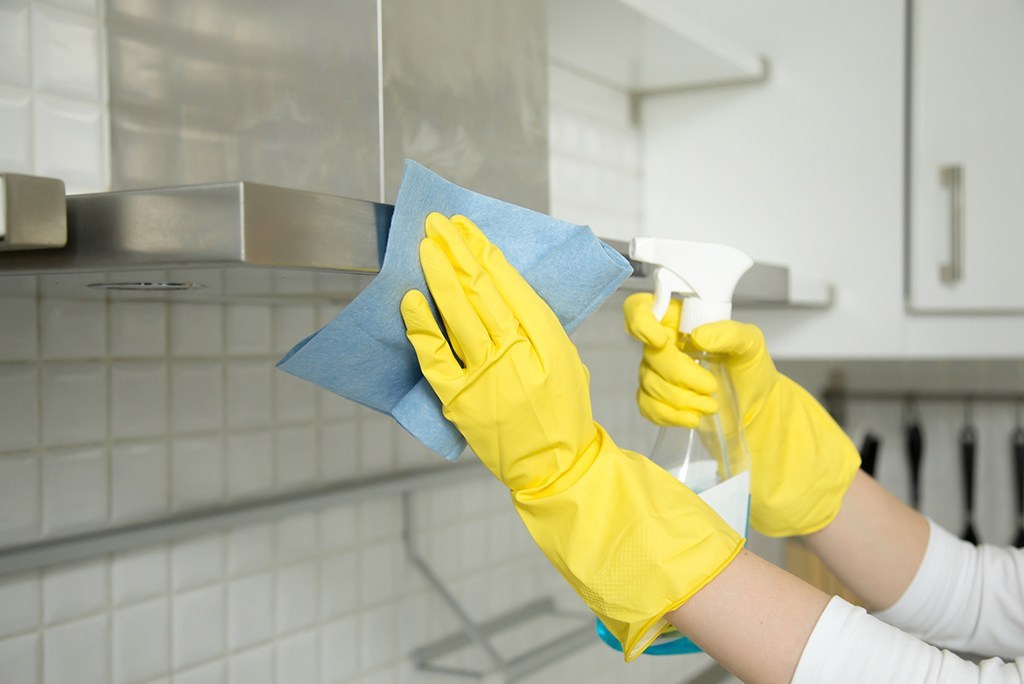 MOVE IN & MOVE OUT CLEANING
Are you Moving?
Moving into or out of a home is the mark of an exciting transition in life, but it can be a very stressful time. There's so much to take care of, with everything from packing to decorating your new home and everything in between. One of the biggest pains of moving is cleaning your former or new house to prepare it for sale or the big move-in day.
Whether you're moving into or out of a new home, Radiant Home Cleaning Services will take care of the mess for you! Radiant Home Cleaning offers move-in and move-out residential cleaning services in the Northern VA region. We believe that a cleaning company should not just simply "clean" a home or apartment, but offer a well-defined, trustworthy service that pays attention to the little details. We will thoroughly clean your new or old home with this approach to make your moving experience as smooth and worry-free as possible.
Move-Out Cleaning
If you're moving out, it's always a good idea to clean up your house or apartment, either to make it spotless for the new occupants or to ensure you get your security deposit back. It's also important to clean the house if you are putting the home on the market and need it spotless for pictures and open houses. No matter the reason, your former home should be just as clean as when you moved in, if not more.
Move-In Cleaning
Moving into a home has the promise of a fresh start, a new beginning. However, there's a lot to arrange before you move in, including cleaning and preparing your new home for new furniture and new occupants. In all the chaos of moving, you might not have time to make a trip out to the new house to prep it for the move-in.
Radiant Home Cleaning can take care of this for you! Our expert cleaning team will thoroughly clean your new house before you move in to make sure everything is in top condition for you and your family. Whether your new home is new or has been relatively well kept and needs a General Cleaning, or has been very "lived-in" and needs a thorough Top-to-Bottom Deep Cleaning, we can do it all.
Easy Tips for How to Promote Your Cleaning Business
Sometimes it feels like everyone's looking for a cleaner. But once you've gone into business for yourself, you may find yourself wondering where all those potential customers have gone, and how you can promote your cleaning business. It can be a challenge to figure out who needs someone to clean, and figure out how to find them, convince them that you can do the job, get them to trust you, and all the other steps that go into running your business.
Marketing for Cleaning Services
Setting up a cleaning business has a lot of advantages. For example, your startup fees are generally low, you don't have to rent an office space, and you don't have to take any special course, or get a license for house cleaning. That being said, there are certain challenges you are sure to face. One of the biggest ones is getting, and keeping, clients. The other, once you build your business, will be finding and retaining employees.
Best Way to Advertise a Cleaning Business
There is no one definitive answer when it comes to how to promote your cleaning business. You may be wondering why you need to bother figuring out how to advertise your cleaning business.
Distribute flyers
Many people are looking for cleaners. That's why flyers are particularly effective for your type of service. You can post them in the local supermarket, community center, or anywhere with a notice board.
Spread your brand via social media
Social media (like Instagram, Facebook and Twitter) is a great place to reach people and promote your small business. You can use it to keep your current customers up-to-date, or as a tool for attracting new customers. To be effective, it's good to keep your messages short and relevant. Before and after pictures can have a significant impact when it comes to marketing for cleaning business so make sure to start your grow your portfolio.
MOVE IN & MOVE OUT CLEANING SERVICES
Moving is a big job. In fact, many people say that moving is one of the most stressful and exhausting life experiences. Getting your things in order, changing your address, scheduling transportation and moving services, perhaps changing school systems, or going through a simultaneous career adjustment⁠—it can all present a massive amount of work. On top of it all, you have to make sure the home you're leaving is clean (either to get your security deposit back for your apartment or to help ensure your house can sell) and that your new home is ready for move-in day.
This is where our move out cleaning experts can help you remove one burden from your to-do list.
Let the experts at The Cleaning Authority remove the burden of pre- and post-move cleaning from your to-do list. By nature, moving is messy. Our expert cleaning crews can make sure that your new home or the one you're leaving looks spotless and sparkling with our move in and move out cleaning services.
Life Is Short. Let Us Take Care of the Cleaning!
Our move in and move out cleaning team is trained and equipped. As part of our commitment to environmentally-friendly cleaning practices, we use only environmentally responsible and sustainable cleaning products on the homes we clean. We have more than 25 years in the business, and our franchise locations are all bonded and insured.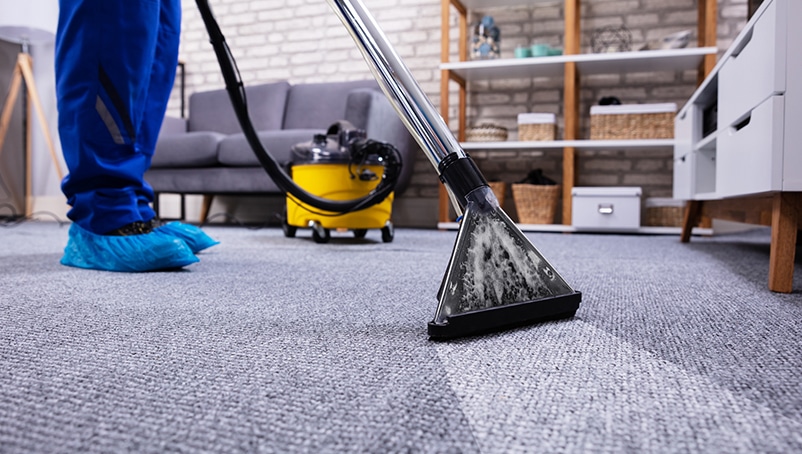 MOVE-OUT CLEANING SERVICES
You packed the dishes, de-cluttered the garage, hired the movers and signed the papers. Now what? Performing a thorough clean before moving out is beneficial to both parties, especially if you have a security deposit on the line.
However, move-out cleaning is easy to neglect. After all, you have bigger things to worry about, like moving into your new home or apartment.
Move-out Cleaning
Now that the rooms are empty (or nearly empty), it's time to make your home or apartment look even better than it did when you first moved in. Many apartment and house contracts require a "broom-clean" while others call for a detailed checklist that covers everything from the stove to the baseboards.