How to Choose Laminate Flooring: A Buyer's Guide
Laminate flooring is one of the great developments in home improvement of the past 50 years. It's inexpensive, durable and prefinished, but best of all, an intermediate DIYer can install it with just a few tools. Most of the various styles are installed by just snapping together the planks-no glue or fasteners required. In fact, the trickiest part is choosing the product! That's what we'll tell you about.
Types of laminate flooring: Two Styles of Laminate Flooring
There are two types of laminate flooring. Both come in packages of snap-together planks about 1/4 in. thick. But here's the difference: Engineered wood is made from layers of real wood glued together with each layer perpendicular to the one below and above it for better stability. The top layer is a high-quality thin layer of hardwood coated with acrylic finish. Plastic laminate, on the other hand, is completely artificial, with a layer of melamine on the bottom, a resin-saturated fiberboard center, and a woodgrain print on the top that's protected by a layer of clear hard plastic. Engineered wood is for purists who prefer the look of natural wood. But you pay for reality. On average, it's about double the cost of plastic laminate flooring. Its thin top layer of actual hardwood makes it more susceptible to dents, scratches and staining. But unlike plastic laminate flooring, it can be rejuvenated up to three times with careful sanding and refinishing. Because of that, you can expect it to last longer than plastic laminate—if you locate it away from water-prone and high-wear areas. If you're planning to sell your house in a few years, consider that buyers may appreciate and pay more for the look of real wood. Plastic laminate is for those who want the look of wood flooring in a place that gets wet or seriously abused. The bulletproof topcoat and plastic internal components make laminate floors extremely durable. They stand up to moisture, pet claws, in-line skates and sand-infested flip-flops much better than engineered wood floors. Manufacturers have come light-years in making the wood-grain print look very realistic. Most people can't even tell it's not real wood.
Don't Forget LV Flooring!
Laminate floors aren't the only option for durability and ease of installation. Next time you're at the home center, take a gander at luxury vinyl (LV) flooring. There's luxury vinyl tile (LVT), which looks like ceramic tile, and luxury vinyl plank (LVP), which mimics wood (shown here). Both types are extremely resilient, about the easiest flooring in the world to install and completely waterproof. Since luxury vinyl is so pliable, it's a great choice over uneven subfloors.
Don't Forget the Underlayment
All laminate flooring needs foam underlayment. Don't skip it. Underlayment prevents the floor from clicking on the subfloor as you walk across it and makes it feel a bit softer. It also makes the planks easier to install because it evens out small inconsistencies in the subfloor. Some underlayment has self-adhesive tape to join one row to the next. Others call for separate tape. Be careful to use whatever is required. Go ahead and buy the special laminate and wood flooring installation tool as well. You'll need it to pull together flooring ends where each row abuts a wall.
Choose a Finish Based on Lifestyle, Not Just Looks
If you lead a quiet life, choose whatever flooring style appeals to you. But if you have one of those crazy households with kids, pets and lots of visitors, be a bit more careful. Flooring with a varied grain pattern, a low-gloss finish or distressed or hand-scraped patina will look much better, much cleaner, much longer than flooring with a glossy, monolithic grain pattern.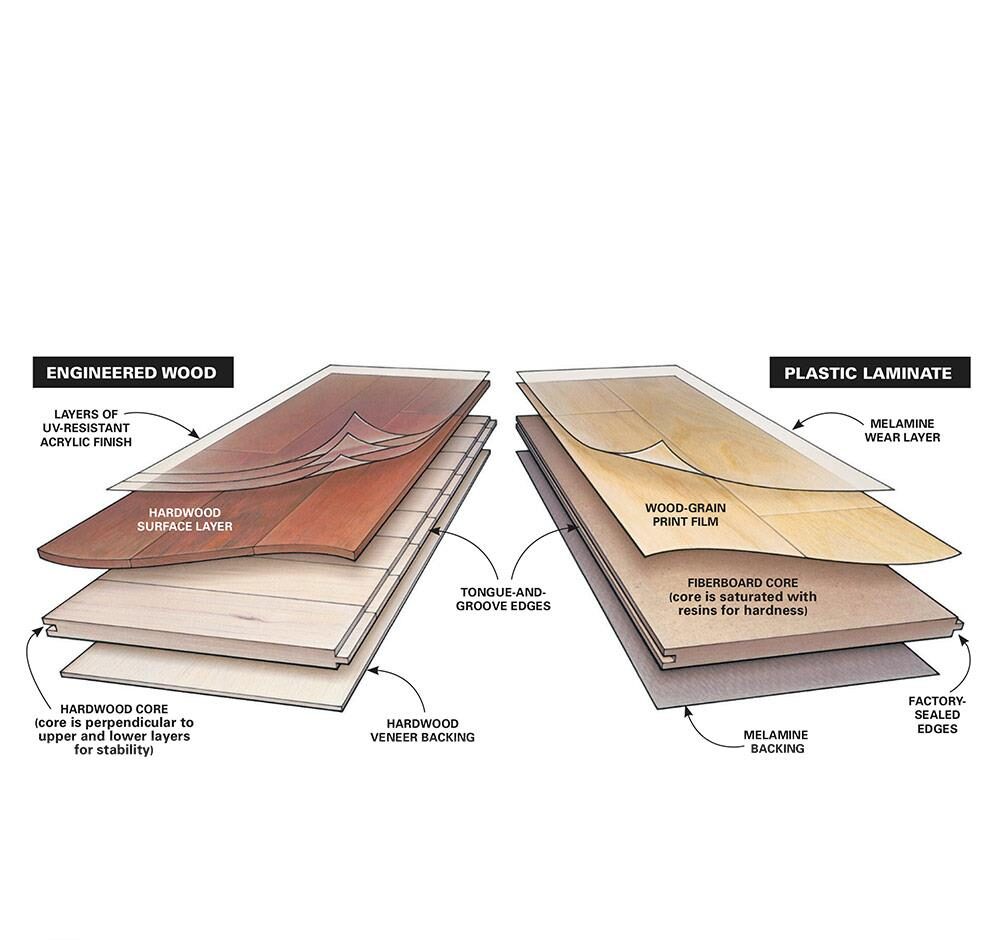 The Complete Buyer's Guide To Choosing Laminate Flooring
When it comes to choosing laminate flooring, we know that it can feel overwhelming. What style to choose, what colours will look best, do you need underlay and how long it will last are all questions that will be going through your mind when trying to choose the perfect laminate flooring for your home.
What is laminate flooring?
Laminate flooring is a type of floor covering that is made from several layers of material to form a firm and durable type of flooring. It usually has at least 4 layers
A backer layer – this layer provides the stability and support for the flooring and is the base of the laminate flooring
A core layer – this layer helps to prevent dents (which can often occur in real wood floors) and retain the inherent structure of the flooring
A décor layer – this layer shows the style of the laminate flooring, whether it's a wood effect, tile effect or stone effect
A wear layer – this layer provides the protection for the layers below, helping the flooring avoid being scratched from daily wear and tear
What are the different types of laminate flooring?
Laminate flooring comes in a variety of different types. There are 2 main styles of laminate flooring: plastic laminate and engineered wood laminate. Read more about the differences between laminate and engineered wood.
What are the different finishes for laminate flooring?
With hundreds, if not thousands of different finishes on the market, choosing the look of your laminate can be a daunting task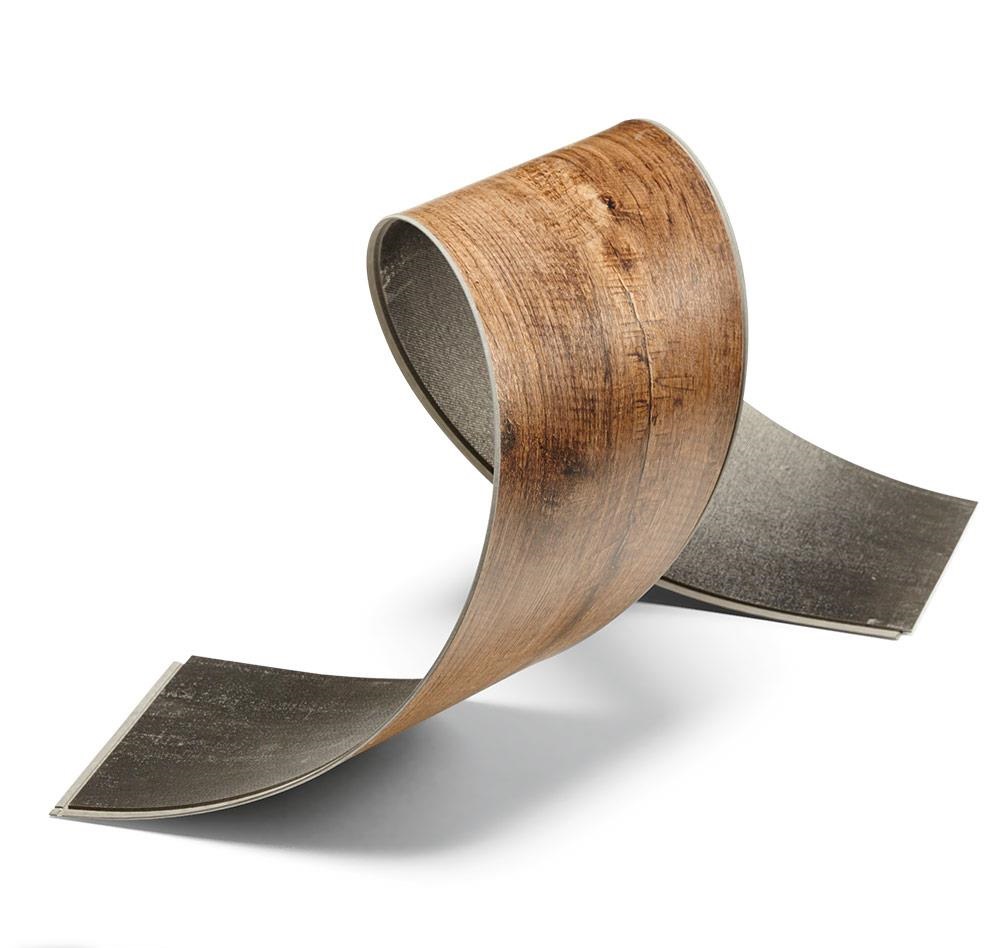 Laminate Floor Buying Guide
What Is Laminate Flooring?
Laminate flooring is a synthetic product made of several layers that are sealed together in the lamination process. Designed to be affordable and durable
laminate flooring consists of four distinct components:
Wear Layer
The wear layer helps resist scratches from daily wear, creates an easy-to-clean surface and maintains a fade- and stain-resistant appearance.
Décor Layer
The décor layer is a printed image that recreates the natural look of wood, tile or stone.
Core Layer
The core layer gives laminate its structure and dent-resistant properties. Laminate flooring is much more resistant to dents than real hardwood flooring.
Backer Layer
The final backer layer provides additional support and stability.
Where Can I Install Laminate Flooring?
Laminate flooring is very durable making it a great choice for high traffic areas, such as living rooms or foyers. But today's laminate floors aren't limited to specific rooms. The detail and style make it a visually appealing flooring option. Waterproof materials and installation allow it to be used in kitchens and even bathrooms. Laminate is also a great choice for basements. Just be sure to read the product information on underlayment and installation requirements.
Using Laminate Flooring on Walls
Most laminate floor planks can be applied to interior walls (not ceilings or countertops). Make sure your wall is clean and dry, plumb (vertical) and stable. Follow the product instructions for preparing the substrate. You'll probably need to prime the wall before installing.
Tips for Choosing Laminate Flooring
I get excited when it's time for the flooring to go in when I am doing a flip.
That means we are wrapping up the renovating portion and the fun portion begins. The decorating and staging. The flooring is an extremely important design to make. I consider several factors when choosing the flooring. I have a "formula" which I use when choosing the other elements, and it's not unusual for me to install the same products, such as the appliances. But, I like to choose different flooring for each home. I will share my process below.
Have you ever heard that saying which started out "I wish I had a dollar for every ( fill in the blank.)" That's what I say when it comes to flooring. I wish I had a dollar for every square foot of flooring I have purchased and installed over the years in both our flip homes and our rental homes. I could retire tomorrow.
Between our own homes we have bought and sold throughout my husband's Marine Corps career, the rental properties we own and my parent's rental properties which I manage, and all of the flip homes our family has renovated over the last 25+ years, we have put in thousands of square feet of flooring. But, each home has a different situation and required different levels of consideration when choosing the type of flooring we installed. Durability and price are just a few of these considerations.
I will say, of all of the types of flooring we have installed, we have used laminate flooring the most. When laminate first entered the flooring scene years ago, I have to be honest – I was not a fan. I didn't like the looks and I hated the way it sounded so hollow when you walked across it. To me, the earlier laminate flooring looked like someone had photocopied and decoupaged cheap images of wood onto thin planks of wood. Yuck.
Budget:
Ugh! I really don't like that word, do you? ? But, like any DIY or renovation project, it's one of the first considerations you must keep in mind. You wouldn't think there would be a major difference in total pricing between flooring that cost $1.89/sf and $3.39/sf. I mean, there's only a $1.50 difference right? Until you multiply that by 1000+ sf. Like any project, you need to break down the costs of the total renovation and decide what percentage you can dedicate to each category. To a new homeowner, it seems logical that you would spend as little per square footage as possible. I mean, savings is savings. Here is where I will a huge and loud NO! Savings is always a good thing, but not when it comes to the item that will receive the most wear and tear in your home. Don't be fooled into thinking that flooring is flooring is flooring. Especially when it comes to laminate. I would suggest spending a little more and getting a better product that is within your budget's means.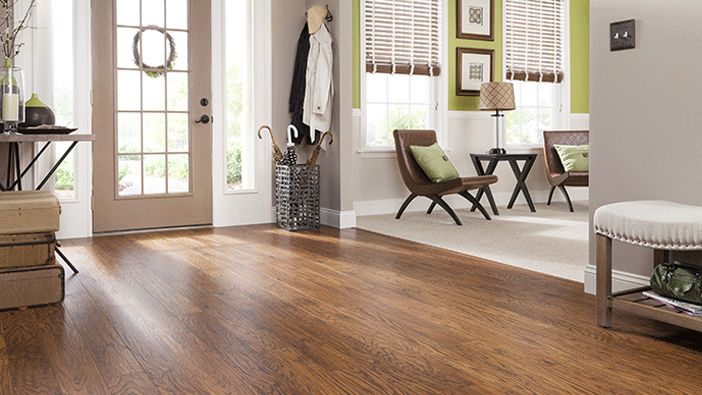 How to Choose the Best Laminate Floor
Laminate can be a terrific option for buyers looking for design realism and durability at a great value. To help you understand this flooring type a little better — and help you find the best laminate flooring for your home — we've answered some of the questions you may have.
What is laminate flooring?
Laminate flooring is one of the most versatile, durable and easy-to-maintain flooring types available. It's a synthetic flooring that's made up of several layers and is designed to look like authentic hardwood, stone and other materials. Advanced design innovations allow for highly realistic visuals in a wide variety of styles and colours.
Is laminate flooring durable?
Very. Multi-layer construction makes laminate highly resistant to wear, stains, and heavy traffic — making it very popular with people who have kids, pets and otherwise active homes. At Armstrong Flooring, our laminate is available in a range of performance levels, including some that are rated for commercial use.
How is laminate flooring constructed?
Each layer in the laminate flooring structure serves a distinct purpose, but they all work together to make it reliably durable. What the layers are called and the exact specifications for each layer may differ depending on the manufacturer and the product
but here's what you'll find in Armstrong Flooring's laminate flooring products:
Wear Layer – VisionGuard® is a clear, hardened melamine layer that protects the floor from spills, stains and fading and resists scuffs and scratches. Many of our high-quality laminate flooring products actually have Commercial VisionGuard®, which has a higher abrasion test rating and provides ultimate protection.
Design Layer – A photographic image displays highly realistic visuals of hardwood or natural stone.
Inner Core – HydraCore™ is our moisture-resistant HDF (high density fiberboard) that provides the flooring with stability, durability and moisture resistance. Our highest quality laminate flooring products feature HydraCore™ Plus, which further adds a more substantial feel and optimum sound absorption.
Backing – This balancing layer reduces warping.