All the Things Your Wedding DJ Can Do (Besides Play Music)
Your wedding DJ will play a vital role on your big day—and it's actually more than just playing music to fill the dance floor. In fact, a wedding DJ has many jobs to do, some of which you'll see, others that are more under-the-radar. That's why hiring a well-reviewed professional is totally worth it (meaning, creating a Spotify playlist, plugging your iPhone into some speakers, and calling it a day really won't cut it).
Here are the things you probably didn't know your rockstar wedding DJ can do—aside from playing major tuneage, that is.
Helps enforce the day-of timeline
While your wedding planner and/or venue will likely take the lead on creating your wedding-day timeline, an experienced DJ will certainly contribute, since he/she knows how long certain parts of the reception will take. What's more, your wedding DJ is responsible for executing and enforcing the timeline during your reception, making announcements to ensure that events occur on time and if there are any hold-ups, adjusting accordingly.
Provides sound equipment
Having high-quality, working sound equipment is an absolute must—and your wedding DJ will have that all covered. Without microphones, speakers, and the like, your guests won't be able to hear your first introduction as a married couple, the lyrics to your first-dance song, your best man's toast, the announcement that dinner is being served, or that the last dance is being played.
(May) supply lighting
While we do recommend hiring a company that specializes in lighting for more extensive needs, many wedding DJs offer uplighting as part of their services. Uplighting consists of smaller lighting systems that can be placed on the floor and aim light upwards to highlight your tables and dance floor. Talk to your wedding DJ to see if this is something that can be included in your package, or if you're better suited to hire a professional lighting company.
Makes sure all equipment is working
There are few things more annoying during a wedding reception than music that's too loud, too soft, or muffled, or worst-case scenario, dead air due to malfunctioning equipment. Not only do experienced wedding DJs utilize top-of-the-line, state-of-the-art equipment, they also do sound checks at your venue well before the reception begins to ensure that everything is working properly so there won't be any awkward silences.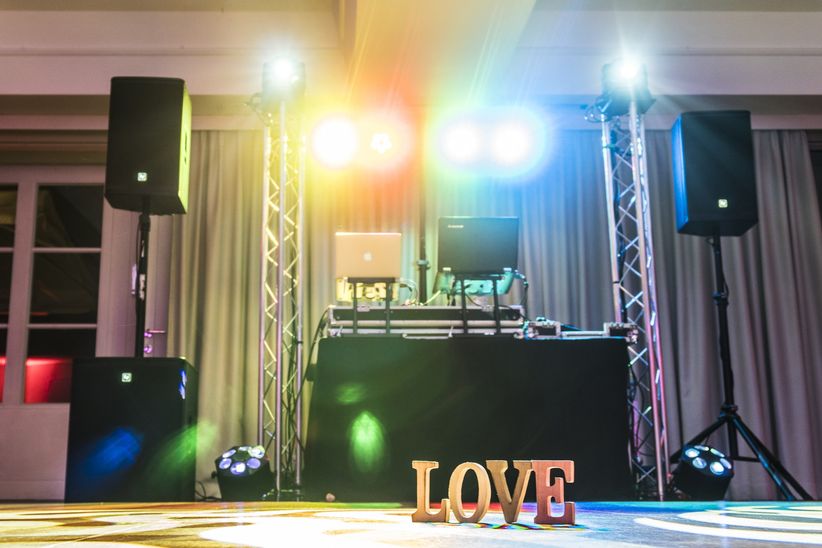 Tips for Hiring an Awesome Wedding DJ
Unlike a live band, a DJ can play the actual recordings that your guests love and crossfade them so there's no awkward silence between songs. Which DJ you hire will depend in great part on what kind of music you want and what your guests will be excited to hear. If you want a dance party, you'll find plenty of DJs who can give you one. You can also find DJs who will customize a playlist for you, whatever your tastes. Here are some tips to keep in mind when hiring a wedding DJ.
Don't automatically go with someone you know. You may have a cousin, friend, or acquaintance who is a DJ, so you feel like you should choose them for your wedding. Maybe you should and maybe you should not; let their qualifications, not your relationship, be the determining factor. If you do choose to go with someone you know, don't keep things casual- make sure that you are in a contract that specifically spells out your obligations and theirs!
Check with the venue. Does your venue have a preferred DJ? If so, that DJ probably knows the venues acoustics and any special concerns. You might not decide to go with that DJ, but their preferred DJ should be on your interview list.
Ask for referrals. That friend whose reception was awesome? Ask her for her DJ's name.
Look at wedding forums for your area. Who do people recommend? Dig deeper than the star rating and actually read reviews to find out why people recommend a particular DJ.
Make a short-list of DJs and interview them. If a DJ won't make time for an interview, how likely is he or she to make time for you during the wedding planning.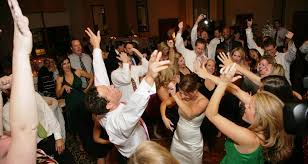 Know what to look for and where
The most common option is to go with a DJ whose primary business is weddings. These wedding DJs know the ins and outs of wedding receptions and may even be great at serving as an emcee to make announcements. To find one of these, do the usual web searching and asking for referrals from other vendors.
Ask to hear samples of the wedding DJ's work
Once you've found a DJ or two that seems right for your wedding, ask to see examples of their work. This could be a video of a live performance, a mixtape, or sample playlists. The more important to you the quality of the music is, the more you should see and hear before hiring.
Give the DJ your playlist and your "do not play" list
If you're already set on a playlist, discuss it with DJs and make sure they are willing to follow it. You may also want to create a "do not play" list and share it to avoid any unpleasant surprises.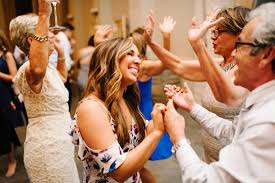 If you include the ceremony then this is what's typical of the DJ:
1. Prelude music 30 minutes to start of ceremony as guests are arriving and being seated waiting for the ceremony to start.
2. Processional song for the wedding party
3. Processional song for the bride
4. Possible music in middle of ceremony for unity sand or other similar event
5. Recessional music for bride, groom and wedding party after being introduced as husband and wife.
 
As you can see there are a lot of different things to consider. Wedding ceremonies usually only need one hour for everything from the prelude music all the way to the recessional song at the end. Receptions typically require 2 hours of background music for cocktails and dinner and then 3 hours of dancing and everything in between.
How long will a Wedding DJ perform for?
The length of a DJ's set is pretty much up to you, to fit with your wedding day timing. It's usual for Wedding DJs to provide music for around 4-5 hours. Just bear in mind that even the most professional DJ needs a break now and then, and your guests would probably welcome a breather from dancing every 90 minutes or so too!
Your wedding venue may have a curfew time for music or dancing according to their licence. You may need to stop at midnight if your venue is a hotel or in a built-up area, for example, or you may be able to continue on to 1am or beyond