CHOOSING THE RIGHT VETERINARY CLINIC LOCATION
Are You Planning to Open or Relocate an Existing Veterinary Practice?
Choosing the right location for your business is one of the most important decisions that you will make in your career as a veterinarian; with many important factors that should be considered. Here are a few to keep in mind for optimal success
The Visibility of Your Veterinary Clinic
The location of your veterinary clinic can provide valuable exposure and marketing opportunity. However, choosing commercial real estate in a high visibility location may also drive up rental rates and other operating expenses. Consider the amount of visibility that a location can offer your practice. Would your business' signage be easily visible? How much traffic passes by? Be sure to consider both vehicle and foot traffic.
Convenience for Customers
Consider how convenient the location would be for your customers to access and park. For example: if the building is located on a stretch of highway, can people traveling in both directions easily access and exit the building without a complicated detour? Is there a parking lot or garage dedicated to the building? Is street parking available? How far will your customers have to walk from parking to your office? Often they will be carrying a pet carrier or walking an animal which can make longer walks from the car uncomfortable and inconvenient.
Clinic Growth Potential
The actual veterinary office space is just as important (if not more) than the physical location of your clinic. Consider if the space is sufficient for your practice needs. What are your long and short term growth plans? Is there room to grow if you decide to expand your veterinary services? For instance, you may find that you will need additional space for kennels, training or examination rooms. Will the space permit a comfortable waiting room area for your customers and their pets? Finding a space that meets your size and business growth requirements should play a key role in your decision. Squeezing into a space that is too small at the onset will work against you in the long run; make sure that the space can accommodate your veterinary clinic for the foreseeable future.
Is the Space the Right Fit for Your Clinic?
In addition to layout, the quality of the space is equally important. Will you take over a vanilla shell or an already-built-out veterinary practice? Does the space include modern features or will it require renovation? Will you need to make any specific improvements such as electrical, plumbing, or structural changes to accommodate your veterinary equipment, supplies and practice plans?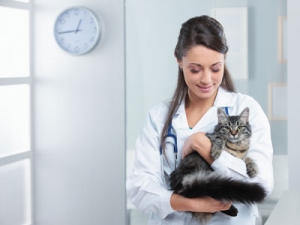 Choosing a rabbit veterinarian
It is important that you go to a rabbit-knowledgeable veterinarian for any medical issues with your rabbit. While many veterinarians may be very good at treating cats and dogs, they may not be knowledgeable in exotic care as rabbits are not usually among the species covered in veterinary medical school. Rabbit physiology and tolerance to medications is very different than cats and dogs and cannot be treated in the same manner. Incorrect treatment can easily be fatal.
If you cannot find a rabbit-savvy veterinarian within a reasonable distance, find a dog/cat veterinarian that will be willing to consult a specialist over the phone to properly diagnose and treat your rabbit. Otherwise, it may be wise to reconsider pet rabbit ownership if no acceptable nearby resources are available.
The following are some questions you can ask your potential veterinarian to see if they are well-qualified to treat rabbits:
Do you treat rabbits?
Approximately how many rabbits do you see a year?
What percentage of the rabbits you see are indoor companions? Outdoor pets? Show/livestock animals? Veterinarians that often see rabbits as livestock will usually recommend euthanasia for any ill rabbit. If you see this type of veterinarian, you will most likely have to do a lot of educating about your rabbit's role in your family and the lengths to which you are willing to go to keep him healthy.
What is the best way to prevent GI stasis? The answer is to provide unlimited hay, brush often, and give plenty of exercise.
What diagnostic tools and treatments do you usually use for GI slowdowns? What is your success rate? Surgery should be a last resort. X-rays should be taken if an obstruction is suspected. Motility drugs such as Reglan and Propulsid should only be prescribed if no obstructions are found. A good veterinarian will suggest supportive measures such as subcutaneous fluids, abdominal massage, and keeping the rabbit warm. Rabbits that need to syringe-fed should be given Critical Care, canned pumpkin (100% pumpkin only, not pie filling), a softened pellet mixture, baby foods, or some combination of these. The vet may also suggest oral fluids including Pedialyte or Gatorade. Pain medication such as Metacam and Banamine can also be appropriate.
What types of surgery have you performed on rabbits? What is your success rate? What type of anesthetic do you use for rabbits?
Should rabbits be fasted before surgery? The answer is no; rabbits should never be fasted as they cannot vomit.
Are you available for after-hours emergencies?
Financial assistance
In the case that you are unable to obtain enough money due to extenuating circumstances, can provide a proof of income, and are still willing to take your pet to the veterinarian, explain your financial situation to the vets that you contact and see if you can mutually work something out. Often, vets may have some sort of charitable account or will be able to work out a payment plan for you. Otherwise, contact local shelters and rescues to see if they can help subsidize your bill or direct you to a fund that will.
Vet-to-vet consultations
In the case that you have no local rabbit-savvy vets available, an amenable local non-rabbit-savvy vet can instead call one of the listed veterinarians below for a consultation to help diagnose your sick rabbit.
How Do I Find a Good Veterinarian?
Before you even bring your new dog home, take them to the veterinarian you have already selected. Annual shots and examinations are a must for keeping your dog healthy.
Choosing a Vet
Choose a vet whom you are comfortable with and who will answer your questions
Try to get word-of-mouth recommendations. Asking other clients isn't always effective because they may not have had any unusual or challenging health problems with their pets, and vets that can be OK for routine stuff often are less impressive with unusual stuff
Call vets in your area and ask the vet techs, not the vets themselves, whom they would recommend other than their own current employer. Another good source is groomers, because they tend to hear a lot of stories from their clients.
If you find the recommended vet is very expensive, she probably owns the practice. Try one of the associates. They tend not to run up the bills so much, and a good vet will usually hire good associates as well.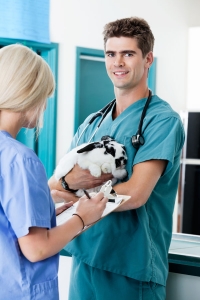 How to pick the right vet for your pet, for the right price
Doing a little research could save you big bucks when choosing a veterinarian, according to a local consumer group
Undercover shoppers for Washington Consumer's Checkbook have found substantial price differences for numbers of services. For example, to spay a 7-month-old, 25-pound dog, there was a price difference of more than $740 between the highest and lowest prices quoted.
Another example: price quotes ranged between $111 and $871 for routine teeth cleaning of a 4-year-old, 65-pound dog. What you pay is not necessarily a reflection of the quality of care your animal receives, according to Checkbook surveys of area subscribers to Consumers' Checkbook and Consumer Reports.
Before deciding to stick with a veterinarian, Checkbook.org recommends visiting the location and keeping these points in mind:
Do they listen?
Do they offer advice on prevention, care/self-help?
Do they spend enough time with you and your animal?
Are they asking a lot of questions to evaluate your pet's needs?
Do the vet and staff appear to genuinely care about animals?
Choosing a veterinarian convenient to your home can also make appointments and emergency care more practical. Another aspect to consider is checking hours of operation and arrangements for care in case of an emergency, according to Checkbook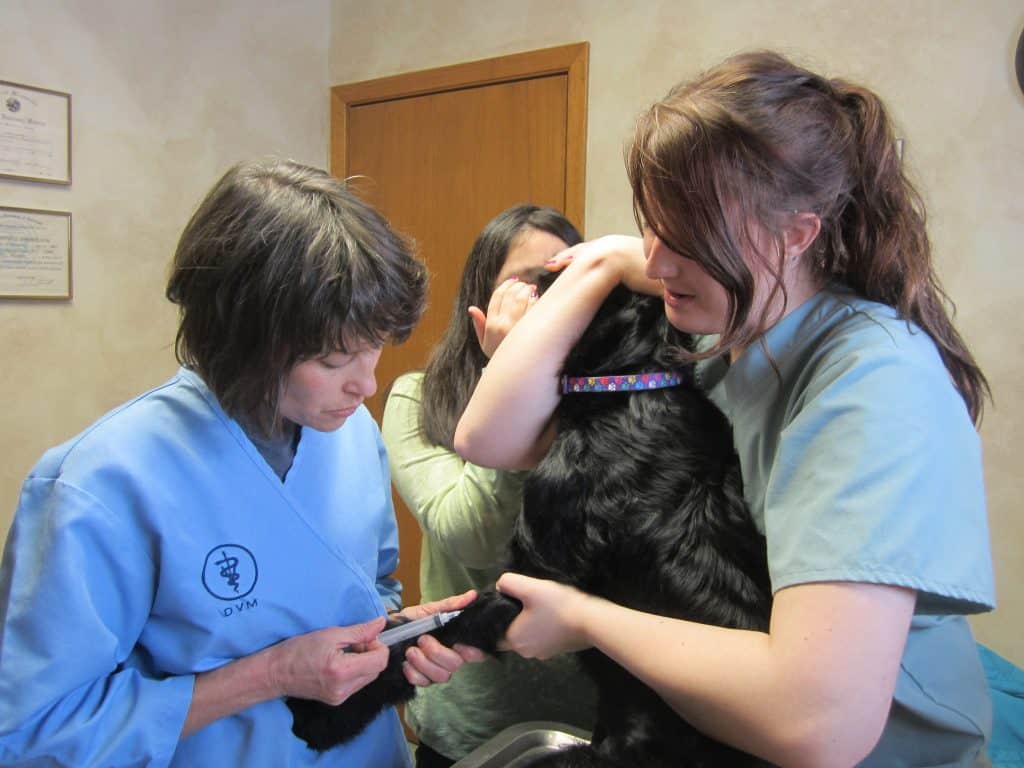 Great veterinarians / How to know when you've found one
A few years ago, a leading consumer magazine did for veterinarians what it does for new washing machines: It told you how to find the really cheap ones. The problem is, my pet is not a household appliance; she's a member of my family. She can't be exchanged for another one if she is broken beyond repair. That's why I'm not interested in a cheap vet, I want a good one.
Whether you're trying to choose a new veterinarian or evaluating the one you already have, it doesn't pay to focus first on cost and convenience. Instead, I suggest evaluating your veterinarian primarily on the basis of how well he practices veterinary medicine.
Be warned, it can be a little difficult trying to make this determination, especially if you're not already that vet's client. But trust me — if you want easy parking, low cost and a nice bedside manner, you can get it from just about anyone who likes animals. The thing you can only get from a vet is medical expertise.
As conventional wisdom tells us, the practice of medicine is both art and science. No vet is going to go his entire career without getting something wrong, missing a diagnosis or even just having a bad day. But that doesn't mean that there aren't some reasonably objective markers that set the great veterinarians apart from the rest. Here are a few that I've found extremely helpful over the years.
Experience
Great veterinarians have experience, although there's no hard and fast rule about how much is ideal. Many mediocre or even poor vets have been in practice a long time, while some newer practitioners are more up-to-date and enthusiastic about medicine.