Questions to Ask Your Kitchen Contractor
You may have 100s of questions for your contractor and that's great. Don't be afraid to ask as many questions as you like. But which questions are crucial when comparing and vetting potential contractors? How can you be sure that you are hiring someone trustworthy, transparent, committed, and capable?
That is, someone who won't keep moving the timeline or surprise you with hidden costs. Someone who won't leave you in the dark while you wait without a functioning kitchen. Did you know online reviews can be paid for? Did you know contractors' licenses expire? Were you aware many companies claiming to be "design-builders" are actually well-intended contractors (no real design panache to speak of…) beefing up their descriptors.
Read on to discover the top questions you need to ask before handing over a deposit or signing on the dotted line.
Can we see proof of your current business license(s)?
Seeing business/builder/etc., license numbers on websites or business cards isn't enough. You need proper proof. Checking in with your local building department will verify if a local contractor's license is current.
Are you insured and bonded?
Insurance and bonding is your "insurance" that if they perform shoddy work or leave you high-and-dry, you'll be covered.
Do you have liability insurance?
If one of their workers is injured on the job, or a neighbor trips on the builder's poorly flagged scaffolding, the contractor's liability insurance is liable so your homeowner's insurance premiums aren't on the line.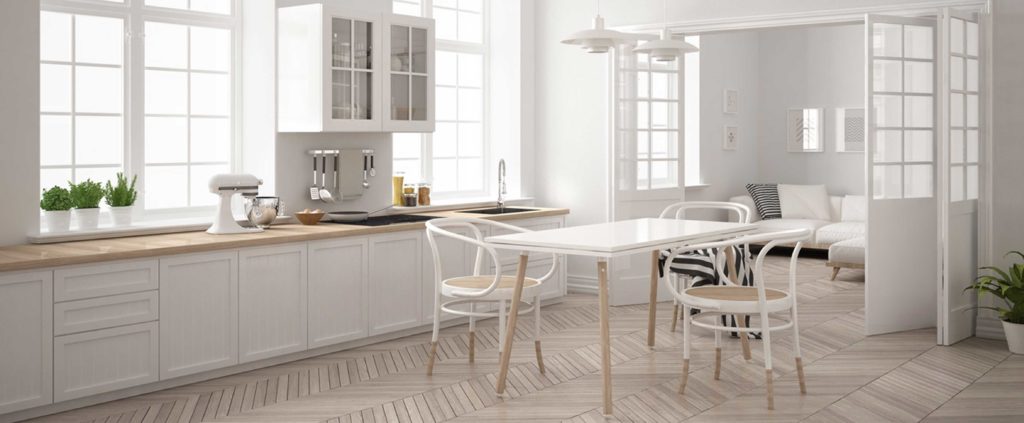 How Long Will the Entire Project Take?
It's important to have a clear picture of when work will begin and end, and every milestone along the way.
Even if your contractor promises to complete your renovation in under three months, ask them follow up questions to make sure they've anticipated potential setbacks and considered every contingency.
Are you working — or bidding on — any other projects that might affect our timeline?
How will you handle any delays in our schedule?
Will you inspect for any structural issues that may impact the renovation before setting a timeframe?
Despite what many contractors claim, it is possible to set and adhere to an accurate timeline. It requires a careful consultation phase, during which your contractor should see your kitchen space, communicate with your architect and/or interior designer, and learn about your needs and preferences during construction.
Ask for a construction schedule that shows what will happen each day, week, and month. That way you can prepare for the inevitable disruptions to your living space and minimize the stress of a kitchen remodel.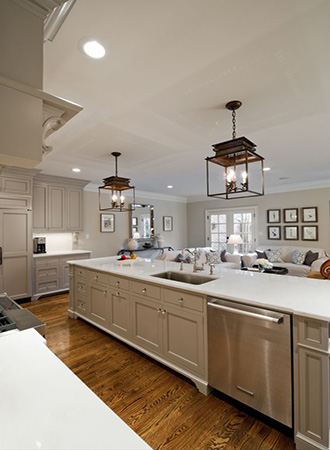 WOULD YOU LIKE TO MOVE THE KITCHEN SINK AND THE REST OF THE PLUMBING?
When doing a kitchen remodel or gut renovation of your kitchen, keep in mind that it's more than just aesthetics you'll be upgrading. If your kitchen layout has been the same for a long while, it could be worth changing the position of the sink or adding a center island with a built-in sink that will open up more possibilities. If you are considering this, be sure to factor in the cost of consulting a professional about moving the plumbing.
CREATE A KITCHEN THAT WILL BLEND AND FLOW WITH THE REST OF YOUR HOME
Something to account for when remodeling the kitchen is that you have the freedom to make it your own and create a space that flows well aesthetically with the rest of your home. If you are aiming for a particular style and color palette throughout your home, a kitchen remodel is the perfect way to incorporate your chosen decorating style and make the space blend with the other rooms of your home to reflect your personality and lifestyle.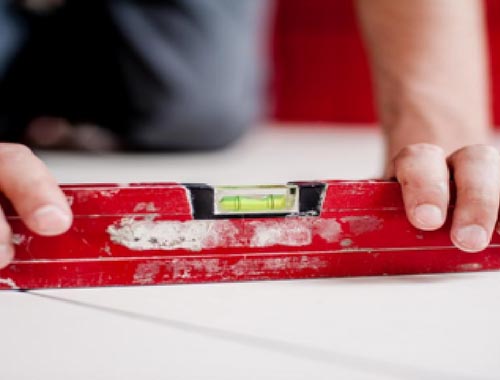 What should I include in my project scope?
Make a list of your absolute "musts" for your kitchen, and then tack on a few "wants." When making this list, think about who's using the kitchen and what it's being used for (i.e. entertaining or preparing family dinners). Using Emprove's "Cost It!" tool, you can get instant and comprehensive project cost estimates that are uniquely tailored to your design preferences, budget and location. With this tool, you can identify how many of your "wants" you can afford, and can fine-tune each project element to make sure you're making the most of your budget!
What's my kitchen style aesthetic?
Whether you're eclectic or timeless, trendy or simple – identify the type of style you want your kitchen to embody and make sure the materials, hardware and appliances you're picking fit that aesthetic. Emprove's "Dream It!" tool makes this easy by guiding you to create and personalize a Styleboard, during which the platform learns your design sensibilities and objectives. All you have to do is click the images you like!
What should I absolutely NOT compromise cost on?
The answer is materials and hardware. The bottom line is that if you don't have high-quality materials and hardware, nothing else matters. This includes but is not limited to cabinets, flooring, and drawers. There are other elements of a kitchen (the fridge and sink, for instance) where you may have more leeway to customize style to fit your budget.
Am I prepared to manage this project?
From hiring a contractor to securing permits, there will be plenty of moving parts to manage. Are you ready?
that homeowners should, at a minimum, be prepared to get multiple bids and check contractor references, insurance, and licenses. You should track product warranties, invoices, receipts, owners manuals, and more And keep great records because you need to update your home insurance dwelling coverage, be prepared for tax time, and have great records if you decide to sell the house.
Can I comfortably survive it?
Even if you know exactly what you want and have the money to pay for it, you still have to mentally prepare for demolition and potential delays.
So if you want your kitchen perfect before your entire extended family comes over for Christmas, you'd better get cracking now! And of course, problems along the way will just lengthen the timeline.
So pad your time frame (and budget) for unforeseen problems that are bound to crop up, and prepare to eat a whole lot of takeout before this is over. It's worth it, really!